After getting my visa, I checked in for the boat to Chau Doc in Vietnam. We were ushered first into a dark waiting room, then told to get on the boat. I was first down to the jetty and headed for the impressive-looking ship. "No sir, this way" said the boat driver, pointing at a rather less-impressive speedboat moored alongside. We packed inside, the driver opened up the throttle and we roared towards Vietnam.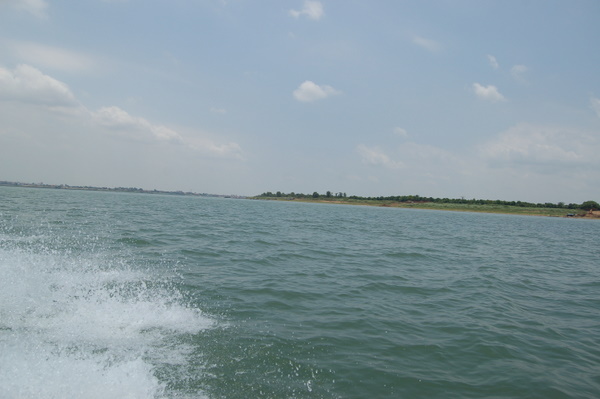 It took four hours to reach Chau Doc, including an hour spent waiting for Vietnam immigration. Here in the Delta, the wide Mekong splits into many smaller channels and we headed down one of these, passing villages half-floating, half not, which blurred the boundary between water and land. In amongst these were a succession of longtail boats and sampans carrying people and goods along the river.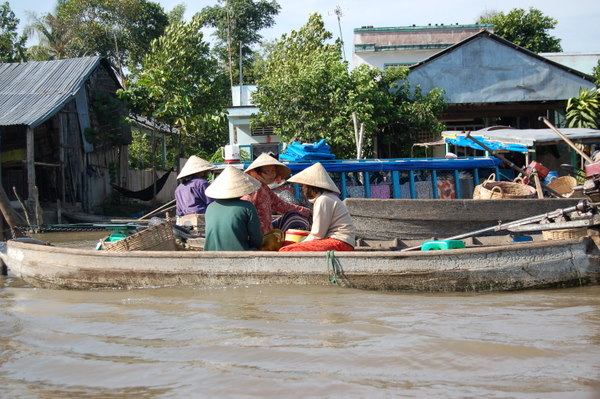 ---
In the evening I emerged from a cafe to find night had fallen. It was very, very dark and I couldn't remember exactly how I'd got to this point in town. Although it was only 7pm, there was a power cut and I could barely see my way along the street. A few shops had generators and their lights shone out dazzlingly brightly into the dark night. In front of most houses people had gathered around a candle or lantern. After getting even more hopelessly lost, I stood in front of one of the dazzling shopfronts and waved at passing cyclos. One picked me up and pedalled me straight back down the road I'd just come up and back to my hotel.
---
I don't often feel "I'm going to die!" Certainly not once every few minutes. Those with heart problems should probably avoid the roads in Vietnam. On the way from Chau Doc to Cantho, the Mekong Delta's biggest city, I was convinced I was a goner. Our bus driver hurtled down the middle of the road at great speed, sounding the horn near-continuously as cars, cyclists, cows swerved out of his way. In Vietnam, the larger vehicle always has the right of way. As a giant truck lurched towards us, both drivers kept their foot down, and we hurtled towards a frontal collision. A split-second before impact, the bus driver wrenched his wheel tight and we skidded past unharmed. Vietnam has some of the most abysmal driving I'd ever seen. It wasn't too surprising that we passed two road accidents within the first half-hour.
---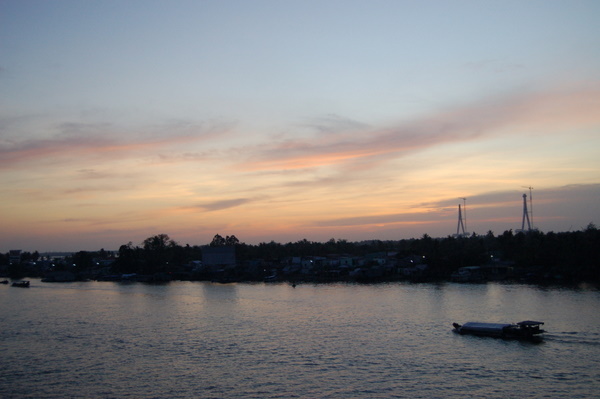 I am not by nature an early riser, but I managed to haul myself out of bed at 5.30am to go and see some of the famous floating markets near Cantho. We set out on a traditional longtail boat, which had been fitted with both a propeller to speed us along the river, as well as oars for steering through the slow traffic in the markets.

At the market, each boat had a big bamboo pole from which they would hang whatever they were selling that day – rather like a shop sign – be it bananas, coconuts, scrap metal, their daughter... I bought a pineapple which the seller artfully skinned and sliced with a large knife.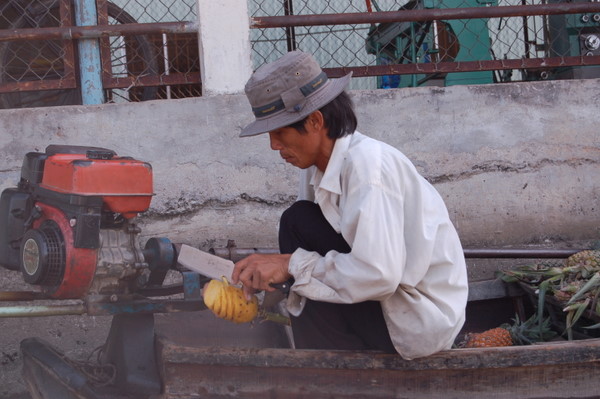 Whilst weaving through the other boats we had apparently broken our propeller, so we paddled over to the "fix-it" boat. One of the blades of the propeller had snapped off. Mr Fix-it brought out a large hammer and succeeded only in snapping off the other blade. Undeterred, he brought out a screwdriver, an adjustable wrench and a large axe – I retreated to the other side of the boat at this point – and finally managed to remove the old propeller and fit a new one.
The day was rapidly getting hotter as we meandered down the network of waterways. I was slowly baking in the uncovered boat, so I borrowed one of the pointy hats, which although it made me look like a complete idiot, was surprisingly effective at keeping me cool.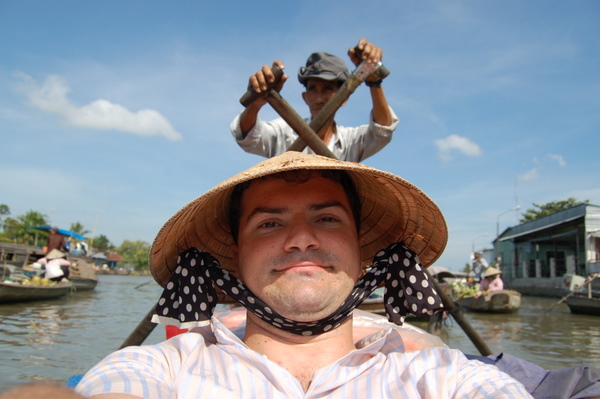 ---
It was late by the time I arrived at Rach Gia. The first hotel I tried was full, but they directed me around the corner to the Giatho Hotel, where I was happy to dump my rucksack and set off to find some food. When I returned, the girl at reception handed me my key... "and I would like to give you a gift". I opened the small white envelope to find a greetings card with best wishes from all the staff. I fell asleep smiling.
---
Read the next entry: Reaching paradise in Phu Quoc