Details about travelling in Myanmar were scarce, but the bus journey to Kengtung was rumoured to take up to eight hours. There was one other foreigner on the bus, a German landscape gardener called Jochen. It seemed that Jochen's beard had not been landscaped recently.
Things got off to a bad start; half an hour after setting off, our bus swerved and knocked over a female cyclist. We all got off the bus and sat in the shade waiting for the police to turn up. 45 minutes later we set off again, now carrying the cyclist too, who had wrapped her bloody hand in a handkerchief.
It was slow going. About two hours in, we had to ford through a river as the bridge was being repaired, and an hour later we passed a giant snake, to the delight of some of the passengers.
---
After a mere five and a half hours, we arrived at Kengtung. I took a tuktuk with Jochen to Harry's Trekking House. "Harry" was no longer running the place – I learned later he had disappeared in mysterious circumstances – but it was still the best place in town to hang out with the motley bunch of tourists who'd made it this far. There weren't many of us.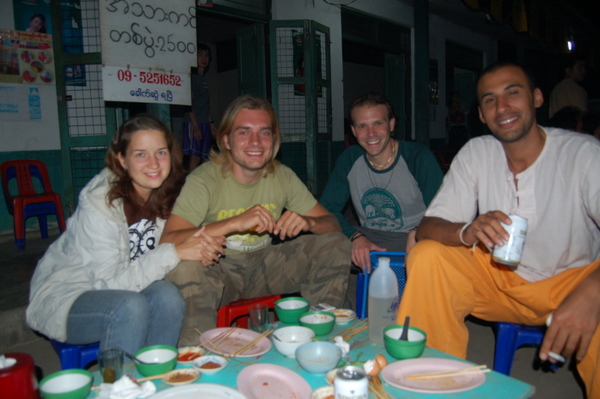 For dinner I teamed up with a Russian couple, a Brazilian and an Argentinian to go in search of food. Sebastian, the Brazilian told us about his encounters with the "yoghurt man", who sold frozen yoghurt in town, and had recommended a barbecue restaurant by the lake. We set off down the dirt road, crammed into a tuktuk, shouting directions to the bemused driver. The lake was actually a large pretty expanse of water. If this lake were in France or Italy, it would be surrounded by trendy restaurants and hotels. As it was, the barbecue restaurant had tiny plastic chairs and one kind of beer (Myanmar Beer). The food, once we'd figured out how to cook it, was delicious.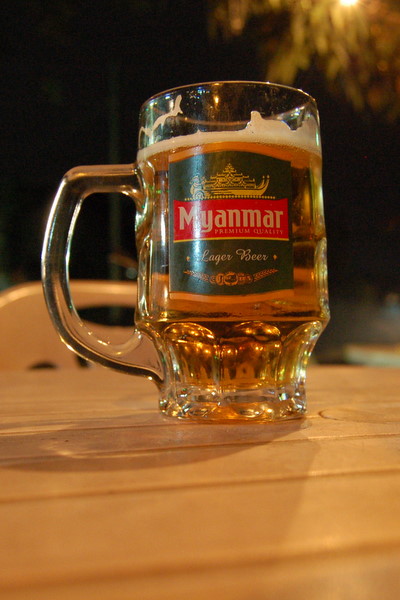 ---
Kengtung wasn't a large town, and before long Yoghurt Guy showed up, telling us that there was a party at the disco tonight to celebrate the end of the students' exams. It all kicked off at 9. A disco? In Burma? We weren't expecting much, but by 9.30 the party was in full swing. The place was packed; all the young people in Kengtung had turned up. They gathered around tables, drinking warm beer, Myanmar rum and coke and bounced up and down while the DJs played loud techno music. Green lasers drew patterns on the revellers. It wasn't exactly what I was expecting in this isolated land.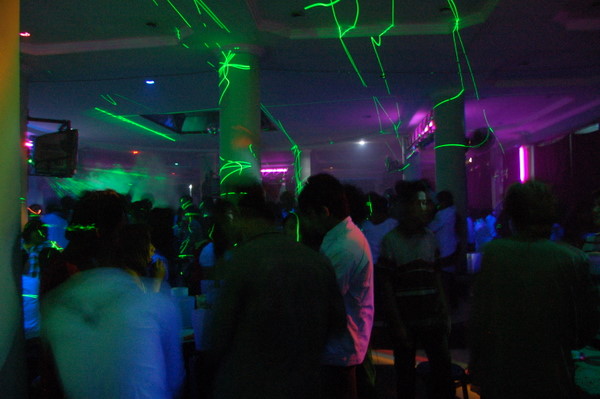 All entertainment must cease by 11pm, order of the government, so I stumbled off in the general direction of 'home'. Not for the last time in Burma, a helpful local slowed down on their motorbike. "'arries? you go to 'arries?" I climbed on board and was whisked down the road. Everywhere in Burma I'd had people stop – not to stare – but to help out.
---
I was clinging to the back of a motorbike – as usual. Its great to have the wind whipping through your hair, tearing down dirt roads through rice fields, past water buffalo herds and dusty villages. In this case, the motorbike was a Yamaha belonging to my guide Francis, and we were on the way to a day of trekking through the hills around Kengtung.
Francis was half-Akha and seemed to get on very well with all the hill tribe folk we met. First we walked to a Er village, a tribe who are famous for making silver bracelets. They believe in animism, believing there to be spirits in the water. An intricate network of bamboo pipes brought water down the central hill of the village.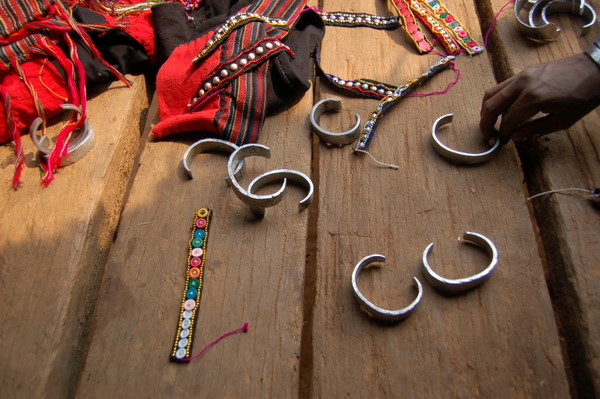 45 minutes trek took us to an Akha village, where we stopped for lunch. In Thailand, tourism has reached saturation point in tribal villages, with tens of groups passing through each day. Here by contrast I was the only visitor of the day, which had its upsides – I could blend into the background as people got on with daily life – and its downsides – fifteen women all attempting to sell me their handcrafted bracelets at the same time.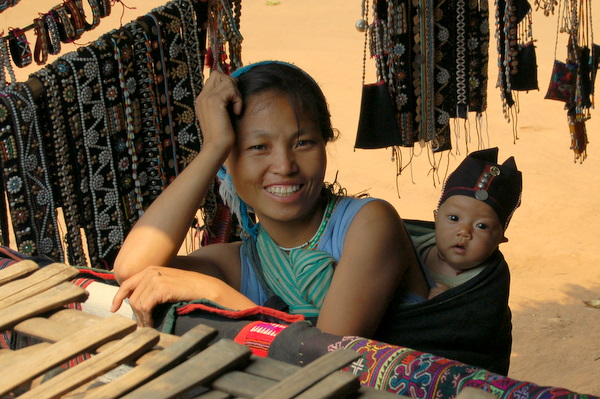 Generally everyone was very hospitable as we lounged around on their balconies, sipped tea and ate sticky rice and peanuts. The last stop was at a large waterfall, where we got into a water fight with a few Burmese teenagers.
Although Francis was only 27 he was married with a child (Frank). He seemed positive about the future and wanted to stay in Myanmar.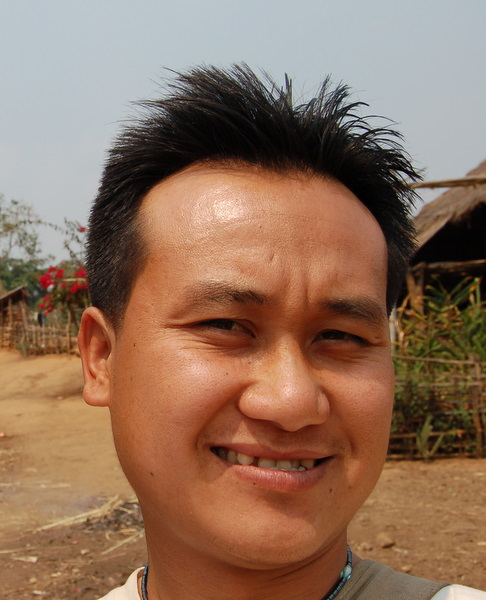 ---
---
Read the next entry: Through Thailand to the Mekong