I am less than a stone's throw from Burma. The stone would only need to be gently tossed across the small stream separating me from Myanmar.
There's something a little Wild West about this border town of Mae Sai. When I arrived last night, everything seemed abandoned.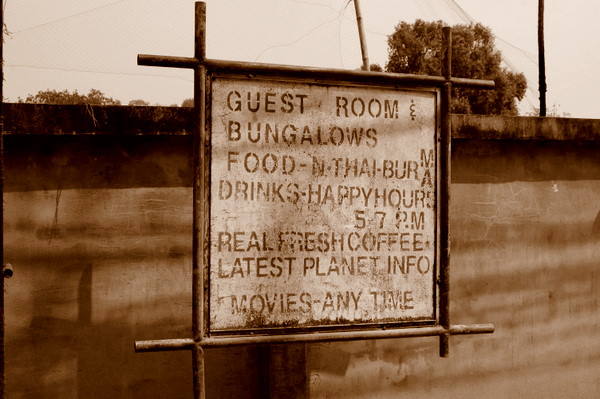 After a lot of shouting I managed to persuade the boy sleeping under the desk at the guesthouse that it would be OK for me to sleep there. "The boss will kill me!" he said, making slitting throat gestures. From the balcony overlooking the river you could hear loudspeakers blazing out Myanmar propaganda.
---
KABOOM! I sat suddenly upright in bed. I went to the window to investigate what sounded like an explosion coming from the direction of Burma. FLASH! KABOOM! To my relief it was only a thunderstorm. Before long, the rain came sweeping down and the guesthouse staff ran to close the big metal doors on the ground floor as the wind swept through, knocking over chairs and tables.
---
The following morning, all was calm. The threatening boss of the guesthouse turned out to be a genial Frenchman who couldn't care less who was staying in his hotel. He enquired if I was going to Burma. With bon chance ringing in my ears, I set off for the checkpoint. After getting stamped out of Thailand, I walked across the bridge over the river. Halfway across, the Thai flags turned into Myanmar flags. Not everyone was going through Thai customs, a man was busy climbing up the supports of the bridge, before clambering onto the road. Nobody paid any attention.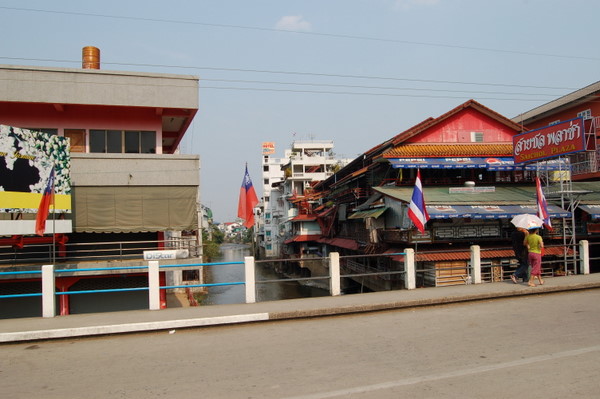 I was expecting a frosty reception at Myanmar immigration, but instead everyone was extremely friendly. I was ushered into the tourist office to fill out a form. Problem: I didn't have the necessary three passport photos. No problem! Rather than sending me back, one of the staff walked with me forwards into Tachilek town, where we found a photo shop, took my photo, printed 4 copies, then returned to the border checkpoint. Finally, after surrendering 10 US dollars, 50 Thai baht and my passport, I was given a small piece of card with my photo on it, and sent on my way. I was in!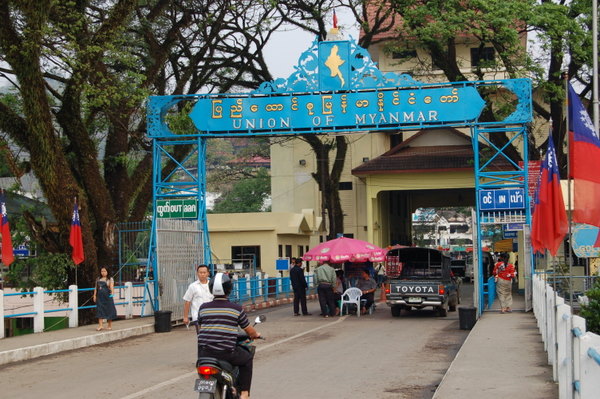 ---
Read the next entry: Disco days in Myanmar