Travel > Athens 2004: The Olympic Games
Day 8
While Hercules, or as the Greeks know him, Heracles, may have had to put up with clearing out the odd stable or dealing with a three-headed dog, the gods clearly slipped up when assigning him his twelve tasks.
The thirteenth labour of Heracles is surely getting Andy Flower to get out of bed early. Despite Andy's efforts to foil us by running down the charge on his mobile phone so we'd have no alarm clock, we were up and ready to catch the 7am bus into Athens.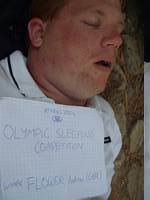 A definite medal-winner
The Olympic flame was still burning away at the main stadium. While some of the Olympic complexes are a bit empty and barren, the sports venues themselves are always magnificent inside, with the Olympic Stadium perhaps the most good-looking of the lot.
| | |
| --- | --- |
| Back at OAKA | Olympic Stadium |
We had another marvellous view across the stadium, where the heats of the men's 100m were in progress. Maurice Greene would later describe the first round of the 100m as "a walk in the park", but for some of the competitors this was where their Olympic dream would start and end. The heptathlon was also in full swing, Denise Lewis was struggling but another Brit, Kelly Sotherton was in second behind the emphatic leader Carolina Kluft.
There was a five-hour gap before the evening athletics session, so we had lunch in Monastikiri. In restaurants I can never resist ordering something with a silly name, so I ended up with a fish called "Arrogant". Sadly the rest of the menu included dishes like "Whitebait" and "Salmon" rather than "Egotistical" and "Opinionated", else I might have had to order the whole lot.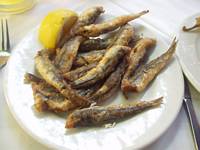 Arrogant
We climbed Lycabettus Hill. It was the same hill I'd climbed in 2002 three weeks into an epic InterRail trip across Europe. Looking back from Athens to Ashford, I'd realised what a long way we'd come.
The world was shrinking; it didn't seem as far any more. I'd just been to Istanbul; I was flying out to India in a few weeks time. Who knows where I'd even call home the next time I climbed Lycabettus Hill?
| | | |
| --- | --- | --- |
| Lycabettus Hill | Summit | Where next? |
"HELL-AS... HELL-AS... HELL-AS..." The cheers echoed round the stadium once again, huge flags waved in the evening breeze, a Mexican wave roared by us, the smell of hot dogs and gyros filled the air. The stadium was packed to capacity for the first time since the opening ceremony.
| | | |
| --- | --- | --- |
| Inside the stadium | The flame still burns | Night approaches |
The highlight of the evening was supposed to be the women's 100m, eleven seconds to decide the fastest woman on earth. It was the discus final though, featuring three of Greece's finest female throwers, that really caught the crowd's imagination, and when Anastasia Kelesidou's discus sailed over the 65m line, you could have heard the roar in Thessaloniki. It was enough to win her the silver medal; God knows what the Greeks will do when they win gold.
Day 9
High-pressure hoses are hilariously good fun. We'd run out of water so I had to refill the yacht's main tank. I discovered the hose made an invigorating external shower, as well as an excellent weapon (hopefully Andy will not read this page before I get the chance to attack him with a jet of cold water while he's fast asleep).
It was Sunday and Lavrio was blisteringly hot, the big LED display in the middle of town said it was 39°C, as hot as it had ever got in the UK. I'd spent last year's Hottest Day Ever collapsed in the Royal Albert Hall, my pockets crammed with free tampons – but that's another story.
It had cooled off by the time we reached the Olympic Stadium. I attempted to apply a Union Jack temporary tattoo, and despite following the instructions to the letter, ended up with a sticky red and blue lump dangling from my chin.
In the stadium our presence was having its usual devastating effect on the performance of British athletes. Paula Radcliffe collapsed in the marathon, Phillips Idowu had three no jumps in the triple jump and both Britons finished fifth in their 100m semi-finals, where the first four qualified for the final.
| | |
| --- | --- |
| The flame burns on | Men's 100m semi-final |
In between watching our spectacular failures and more Swedish successes in the high jump and triple jump, we amused ourselves by trying to spot Ben and Polly in the crowd. They'd paid €50 more for their tickets, but we seemed to have a better deal with a view straight down the 100m straight.
| | |
| --- | --- |
| Another Swedish winner | I spy Ben and Polly |
The finale of tonight's athletics was the men's 100m final. A blinding wall of camera flashes greeted the starting gun, and 9.85 seconds later Justin Gaitlin was Olympic champion. You pay all this money, and they don't even provide you with 10 seconds of entertainment? I ask you...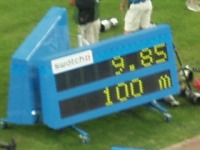 9.85 seconds
We all piled on to the suburban railway, squeezing more and more people in until we were very well acquainted with our neighbours' extremities. It was a lot calmer than the previous night though, when a woman had got very upset that extra people were trying to fit onto the train at Plakentias. It doesn't take much for the Greeks to start a shouting match, though they seem to be mostly hot air. Perhaps with the heat, conflict is inevitable:
"The day is hot, the Capels abroad, And, if we meet, we shall not scape a brawl." (Romeo and Juliet, Act 3 Scene 1)
Day 10
Lord Byron liked Greece a lot. It seems the Greeks liked him too: when he died they removed his heart and buried it in Athens.
Byron liked the temple at Sounio so much that he felt the need to carve his name into one of the columns after he visited in 1810. We couldn't spot that particular graffito 194 years later though the walls of the temple were covered in names from down the years.
| | | |
| --- | --- | --- |
| Byron woz ere | Temple at Sounio | Entrance to the temple |
I could see why Byron loved the place; the simple white marble columns of the temple are perched above an incredible vista of azure sea. I immediately decided to hold my wedding there, and this is terminally single Matthew speaking.
| | | |
| --- | --- | --- |
| Matt pretends to be a column | Azure sea | Don't jump, Andy |
We'd stopped at Sounio on the way to the Helliniko complex. Mysteriously since our last visit some dramatic landscaping had been taking place, and the central plaza now featured a large green hill, which soon became known to us as Tellytubbyland.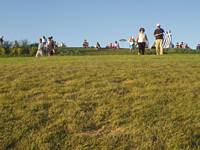 Tellytubbyland
Basketball proved to be another sport that was far better live than on TV. We had great seats, the action was pulsating, there was acrobatic slam-dunking at half-time and even a giant dancing Athena. What more could a guy want?
| | | |
| --- | --- | --- |
| Basketball arena | Hello Phevos! | Hi Athena! |
The first match saw Italy beat Argentina by a single point, but the crowd were only warming up for the main event: Greece versus Puerto Rico.
Greece's opponents were already on a roll after beating the USA – and Greece would need to win by a hefty 12-point margin to claim second in the group and a good quarterfinal draw.
To cap it all, the Puerto Ricans had a giant of a player who must have been well over 7' tall. He made the rest of the genetic freaks on his team look positively normal sized.
Greece's task was impossible. But as the Adidas adverts plastered all around the city have reminded us all week, "impossible is nothing". Greece took the game to their opponents and with a 12,000-strong full house screaming them on, piled on the pressure.
HELLAS OLÉ OLÉ!

HELLAS OLÉ OLÉ!

Nothing can feel sweeter

Than £&@#ing Puerto Ricans!

EH!

HELLAS OLÉ OLÉ!
Admittedly I had to make up my own words that sounded vaguely like the Greek ones, but I was fast on the way to becoming a Greek basketball supporter. The impossible achieved, Greece ran out 78-58 winners.
Rather than do something sensible like going to bed, we headed to the Faliro Water Plaza to celebrate. This being the Sponsors' Park, you could drink large amounts of official Heineken Beer, go inside a giant Coca-Cola bottle, eat Delta ice-cream, make a phone call from an OTE phone using your Visa credit card and admire a Hyundai car. I was disappointed there was no giant Xerox photocopier to play with, though this was probably because I'd had a few too many official beers by this point.
As it was 4am, we decided to catch the bus to the airport and crash there for a few hours. We weren't the only ones with this idea; parts of the airport resembled a student house after a big party. I ducked behind a large pot plant and tried to get a few hours' rest.
Day 11
My past attempts at sleeping in odd locations had not been encouraging. I still harboured bad memories from a bitterly cold night spent on a bench at Narvik inside the Arctic Circle.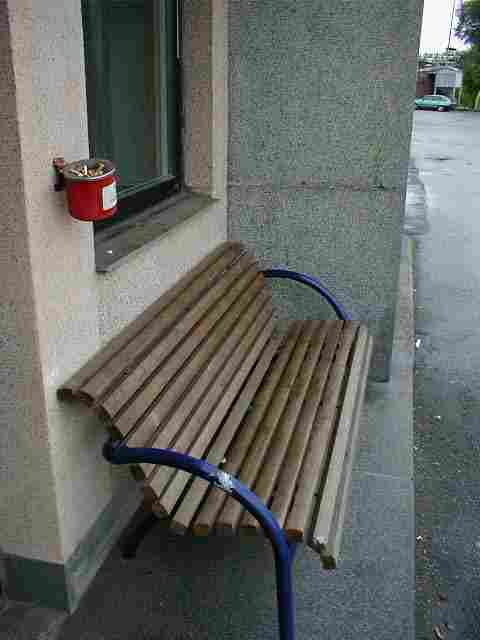 Bench at Narvik station, Norway
Athens airport was positively cosy in comparison. I got a whole hour's sleep before it was time to wake up, make a vague attempt at knocking the mess on my head into a hairstyle and inspect my rapidly growing beard (my razor blade had been confiscated as an offensive weapon at Helliniko).
The morning session saw us back at OAKA watching more British athletes screw up.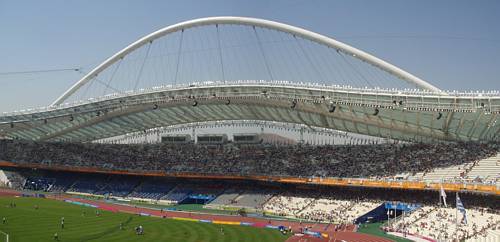 The large Union Jack-wielding contingent was undeterred.
"COME ON, CHRIS!" "COME ON HELEN!"
Why can't the British come up with any more interesting chants? It's like poor Tim Henman, wherever he goes he is stalked by middle-aged women screaming
"COME ON TIM!"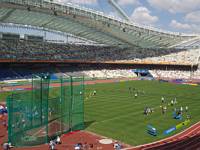 Come on, Dean!
I left Andy to sleep in Syntagma Square while I headed off to the Cyclades Museum. I'd been planning to visit this for ages, but kept forgetting to go each time we were in Athens during the day. I was adamant I wasn't going to miss it, the memory of failing to visit the Leprosy Museum in Bergen still haunting me.
Thousands of years before the Greeks were getting their act together on the mainland, the good people of the Cyclades were crafting beautiful white marble figurines.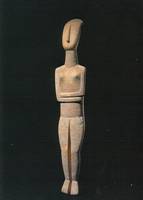 Cycladean beauty
The 'canonical type' is a female figure with a triangular tilted head, folded arms, stylised genitalia and long slender legs. They ranged in height from a few centimetres to almost life-sized and the shapes and forms have been an inspiration for artists and sculptors from the Ancient Greeks to Pablo Picasso and Henry Moore.
They could have been sculpted yesterday, the lines were as fine and precise as any piece of modern sculpture but the figurines were over 5000 years old.
My wad was getting painfully thin. I'd started the holiday with a big wad of tickets in my moneybelt, which I kept with me the whole time. Now, we had our last event. It was back to OAKA for another packed night of athletics.
Highlights? A Kenyan 1-2-3 in the steeplechase. El Guerrouj winning again at 1500m and dancing round the stadium draped in a Moroccan flag. Ana Guevara winning silver, Mexico's first ever track and field medal, her Mexican supporters setting off wave after Mexican wave in celebration.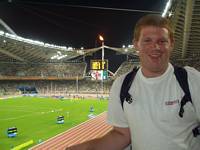 Andy at the stadium
Yet over at the end of the stadium an even bigger drama was unfolding in the pole vault competition. A Pole called Anna Rogowska and two Russians, Isinbayeva and Feofanova were battling it out. 4.65m, a new Olympic record. 4.70m, breaking the record again. Rogowka fell. But the Russians just kept going. Feofanova, the world record holder sailed over 4.75m, yet another Olympic record. Isinbayeva had already failed once at 4.70m and 4.75m. She took a gamble and went straight for 4.80m—but she'd only have one attempt.
Isinbayeva psyched herself up. The track events had finished; all eyes were on her. She soared over, without even nudging the bar. Even Feofanova had to applaud, and it was enough to take the gold medal.
What a way to finish our Olympic experience. But was it?
Isinbayeva asked for the bar to be raised to 4.91m, a centimetre above Feofanova's current world record at 4.90m.
The stadium reverberated to the rhythm of a heartbeat. She ran down the runway, we willed her on. Faster, stronger, higher...
Nailed it.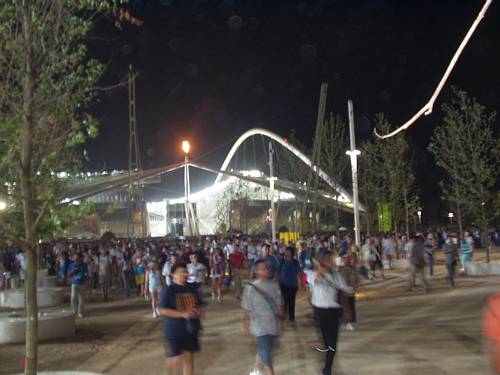 Heading home