< Continued from Part 4
Day 15 (Moskenes > BodÝ > Narvik)
1.55pm (BodÝ):
A cunning plan was hatched last night. Rather than stay in an expensive youth hostel or cabin in BodÝ tonight, we decided we would take the bus into Narvik in the afternoon, arrive at 11pm, stay up all night (light of course due to the Midnight Sun), then camp the following day having been awake for 40 hours.
We woke up at 6am and yet again had to pack our tent away before going to the ferry terminal. The ferry was late again (about half an hour) but the journey itself seemed quicker than before. There was a big swell but in the centre of the boat we didn't have to move too much and I felt fine.
On arrival at BodÝ I went to try to book our bus tickets; both the bus station and rail station ticket offices were closed. Things went from annoying to irritating when the cafť we had planned to have reindeer at emerged as being sans Rudolph. We bought some overpriced hot dogs for lunch and sat down to await the arrival of the bus.
6.19pm (On a bus):
So far the plan is working. It is now 12 hours since we woke up and we have just left Fauske and begun the long journey North up the E6. Chocolate supplies are already running low.
8.47pm (Still on a bus)
We have just passed a sign 'Narvik 99'. Under 100 kilometres to go! I am feeling fine at the moment but there's a long night to come.
9.54pm (On a ferry)
Clever though Norwegian road-builders and bridge-builders are, they couldn't cope with the 10km stretch of water between Bognes and Skarberget. We have resorted to a ferry.
Midnight (Narvik)
A major argument develops when we get lost in Narvik on our arrival. We finally arrive at the station after a long walk. It is closed and we are too tired to go walking round Narvik. We decide to try and sleep on the seats outside.
Day 16 (Narvik)
10.00am:
Wet, cold, miserable. And that was after an hour. By 5am I was frozen stiff and hadn't had any sleep to speak of. At 6am the station opened and we could crawl inside its warm interior and thaw for several more hours.
8.22pm:
After the atrocious start, probably the most uncomfortable night of my life, today could only get better. I snoozed for a few hours in the station and got some breakfast (an expensive imitation KitKat).
We headed for the campsite a mile north of the centre and were pleasantly surprised to find a TV room, good kitchen, showers and a flat place to pitch our tent.
We then headed back into town and went to the War Museum, which told the story of Narvik's involvement in WW2. This involved the town's total destruction by successive Allied and Nazi advances. Once we'd found the English guidebook the museum made a lot more sense.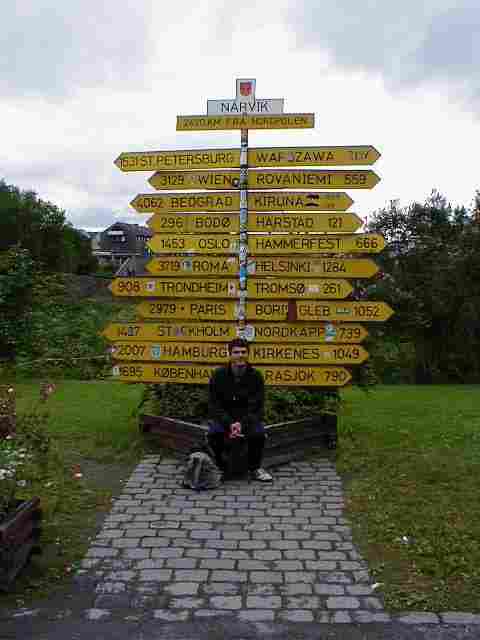 Not much further to the North Pole
After so many hour without a decent meal I felt as if I could eat a whale - so I did. We had been looking for a restaurant serving 'Hvalbiff' and finally found one, rather pricey (169kr) but well worth it. Whale was very tasty - something like beef or lamb.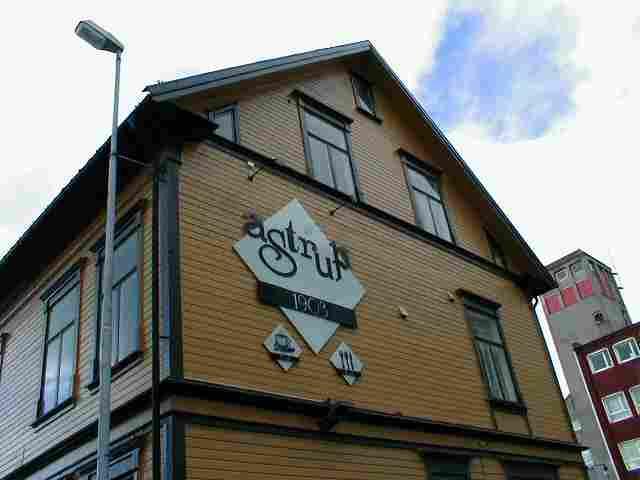 Whale served here (don't tell Greenpeace)
It had been a long two days so we returned to the campsite early to get some well-needed rest.
Day 17 (Narvik)
As usual it was raining when we woke up. I wasn't too sure of the time (since I had lost my watch at the Moskenes campsite) but even if it was time to get up I was planning to stay put.
When the rain had slackened we headed into town, bought some food and changed £40 at the K-bank.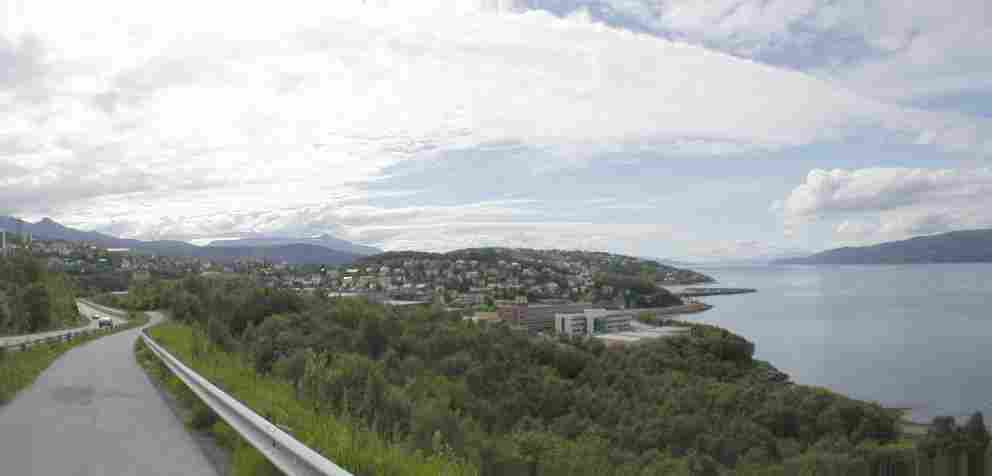 Narvik. Not the most beautiful town in the world.
Richard and I went to the LKAB iron ore terminal where there was supposed to be a guided tour at 1300, but due to the weather we were put in a room and watched a video with a lot of scouts instead. The video was reasonably good, though unintentionally amusing when then narrator claimed the scenery of Northern Norway had been unchanged for thousands of years ... yes, until they stick a big iron ore port in the middle.
Afterwards I went shopping, getting a new watch (a 298kr rip-off), some more gas and some souvenirs. I also found a Norwegian 'grot shop' on the ground floor of the shopping centre where I bought some cheap biscuits.
[Andy's addition: We ate elk salami for lunch. Woooo]
We met up again at the library, so I read some newspapers and 'Where's Spot' in Norwegian; Andrew and Richard sent some emails.
We bought a big pizza for dinner and headed back for our second night in Narvik and our final one (for the time being) in Norway.