< Continued from Part 6
Day 23 (Stockholm > Trollhättan)
Our final day in Stockholm began by taking down the tent. For once, the rain managed to hold off while we packed up.
It was also our last journey on Stockholm's T-bana, a service that has been extremely useful and very efficient, strange considering it is run by Connex.
We got to Central Station in plenty of time so while Richard changed some money, I went to buy him a milkshake while Andrew guarded the bags. "A large chocolate milkshake please." "A milkshake? What size?" "Large." "Banana?" "No, chocolate." "Chocolate." He gave me a vanilla milkshake.
I also went to enquire about getting the train to Mariestad. The woman at the information desk was adamant this was not possible. We decided to get on the Gothenburg train anyway and with the help of the Rough Guide settled on Trollhättan, north of Gothenburg. The five-hour trip passed with little incident we changed at Gothenburg on to an Intercity, which took us straight to Trollhättan.
Although finding Trollhättan had been easy enough finding its campsite was rather harder. The proprietor of a pizzeria gave me directions, which three men at a bus stop pointed us in completely the other direction. We finally made it to the campsite and booked in for four nights at a cheap 100kr/night. After pitching the tent we went for a walk into town. For dinner we returned to the pizzeria, where pizzas were an astonishingly cheap 30kr each (£2!) We then headed into the town itself. By luck we had arrived at the conclusion of the annual festival, so the centre was busy with people, there were various concerts going on and a carnival atmosphere was in the air.
Later we returned to the tent and it began to rain.
A large puddle soon formed outside my end of the tent. This would have been bearable had I not left my moneybelt in the puddle...
Day 24 (Trollhättan and Gothenburg)
My first task was to inspect my soggy moneybelt. Most items hadn't fared too badly but the InterRail pass was rather wet and the plane tickets had to be gently prised apart.
I left Richard with my slowly drying travellers' cheques and set off with Andrew on the train to Gothenburg (spelt Gotebörg, pronounced Yur-te-boy!)
We stated in Gustav Adolfs Torg, where a statue of Gustav Adolf points at the ground. "Here I will build my city" he apparently declaimed. And he didn't do a bad job of it either. Gothenburg was an inherently likeable city, with its canals, busy streets and impressive buildings, both old and new.
| | |
| --- | --- |
| "Here I will build my city" | Canal life |
| The Viking | It's a long story but it was very amusing at the time |
Andrew's withdrawal symptoms took us to the Ullevi stadium, an impressive football stadium at the eastern end of the city centre.
After a few hours in Gothenburg we decided to head back, stopping only to make reservations for our little day-trip tomorrow. On the return journey (as indeed on the way there) the conductor was very amused by the soggy InterRail.
On our return I decided to go for a swim at the outside (!) heated (!!) swimming pool nearby. It cost 25kr to get in and was well worth it, with an Olympic-sized pool and various diving pools. I spent a pleasant few hours swimming, sunbathing and reading.
After dinner (a giant ham and potato salad sandwich) we had a long discussion about bread. We played cards. We drank tea. It got dark. We went to sleep. (Well I'm pre-empting the last three of these actually.)
Day 25 (Trollhättan and Copenhagen)
At 05:50 hours the well-planned operation commenced (I woke up)
At 06:39 hours we boarded the local train from Trollhättan
At 07:31 hours we arrived in Gothenburg
At 07:40 hours we left Gothenburg on the high-speed X2000
It was an early and necessarily regimented start to our day trip to Denmark. Everything went as planned and not long after 11 we had arrived in Copenhagen.
Six hours was what we had and six hours is what we took on a whistle-stop walking tour of Copenhagen.
Once we had actually found the station (our platform led on to the street!) and changed some money we headed into town, starting in Indre By, the likeable city centre. Immediately obvious was the Dane's love of bicycles, which charged down the numerous cycle lanes. Luckily nobody had started playing "Wonderful, Wonderful, Copenhagen" yet.
After a detour into the Botanical Gardens we headed north towards Nyboder, a pretty area of terraced houses, and the Kastellet, the fortress which had an excellent moat but not much else.
From there it was a short walk to Copenhagen's most famous landmark, the Little Mermaid statue. With the hordes of tourists photographing and clambering over it and endless sightseeing boats speeding past, it could have easily appeared crass and tacky. In fact it impressed me more than I had expected, the mermaid's mournful expression a contrast to the gormless faces staring at her.
| | |
| --- | --- |
| The Little Mermaid | Some gormless faces |
We returned via the pleasant Amalienborgplads, a square flanked by Frederikskirken, with a huge dome, and a fountain clearly regarded by the Danes as a swimming pool.
Since we had £10 to use up each, hot dogs, ice creams and strawberries (yum) were the order of the day, there was also time to send postcards home before our six hours were up and we returned to the train.
We arrived back in Trollhättan before 2200, tired but happy. There was even time for another 30kr pizza.
Day 26 (Trollhättan)
My third day 'in' Trollhättan was the first one I spent actually in the town itself.
For once I was the last to get up at about 9 and before long I set out into town. I started by walking down the canal, past the hydroelectric power station (the first in Sweden). I climbed to a viewpoint over the canals and gorges that run through Trollhättan.
| | |
| --- | --- |
| Powerful | Gorge-ous |
I returned to town and had some lunch. I then decided to head for the tourist information centre, which for some reason was about 2km out of town. There I read some brochures, which told me that Trollhättan is the centre of the Swedish film industry ('Trollywood').
There were various museums near the tourist centre so I chose the Saab museum, containing every model they've ever made. They are obsessed with safety, carrying out over 30 different crash tests (including the hilarious crash into a simulated moose) and recording every accident that a Saab is involved in. Luckily for Saab's insurers I didn't have my driving license so I couldn't try a test drive.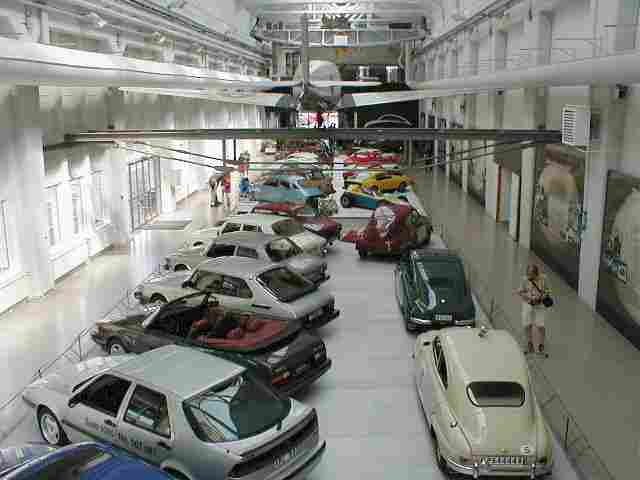 The Saab Museum (beware of flying mooses)
After the museum I took an enjoyable cable car ride to the other side of the canal.
| | |
| --- | --- |
| View from the cable car | Wheeeeeeee! |
Then I walked to Oscar's Bridge well in time for Trollhättan's greatest spectacle. A couple of times a week the huge sluices are opened and 300 000 litres of water pour into the canals. I met Richard on the bridge and at 15:00 exactly the gates slowly opened, first a trickle, then a stream, then a torrent of water crashing through the gorge.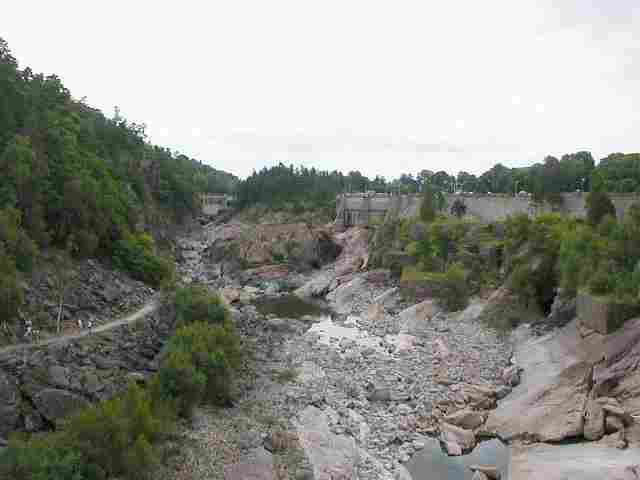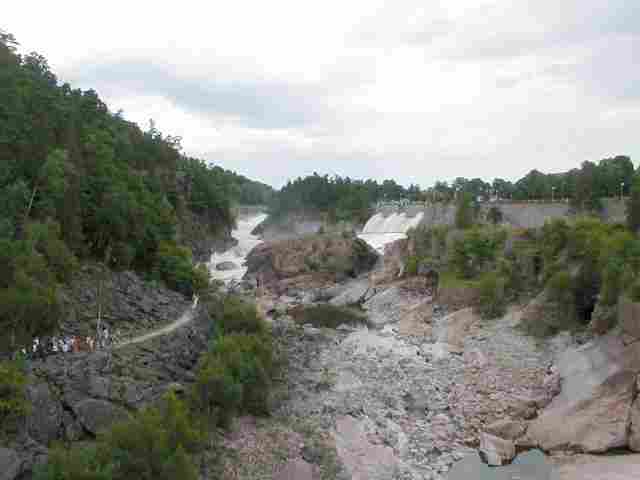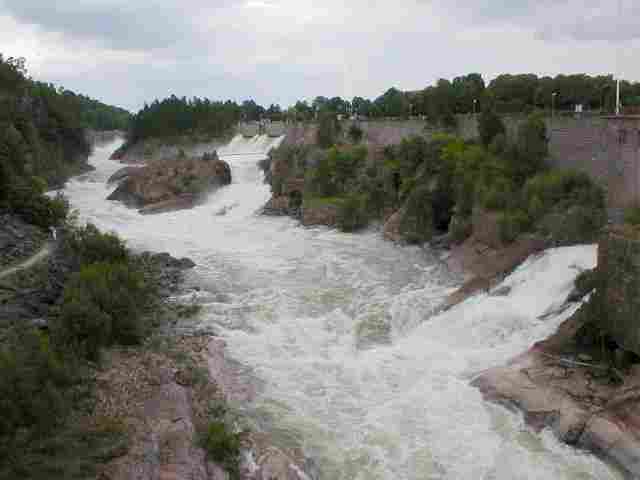 I returned downstream to use the return leg of my cable car ride, then walked back into town. I booked to use the Internet for half an hour, were I sent an email and received various messages on my guestbook.
Back at the campsite we ventured out for another pizza (too cheap and too tasty to resist) before playing cards and draughts before nightfall.