Travel > Athens 2004: The Olympic Games
Day 3
At last the Mayer-Flower Yacht Hire Company had its first paying guest. Unfortunately Bev Manning's arrival last night had coincided with the worst weather we'd seen and the boat had taken a bit of a battering. The gangplank had fallen into the sea, the boat had swung round 90°, the battery was dead, the lights and water didn't work, the toilet was overflowing and we'd been out ogling women watching beach volleyball.
| | | |
| --- | --- | --- |
| Morning at Lavrio | Lovely onboard toilet | Olympic flag still flying |
Much to my amazement Bev didn't seem to blame us and she was still intending to pay us for staying on the yacht for the next four nights.
It was a blustery and cloudy morning as we took our usual morning bus into Athens. Today we'd opted for an 'Olympic Package', a clever attempt by the Olympic organisers to shift tickets for obscure sports by cobbling two of them together for a €5 discount. The first half of our package was volleyball at the S.E.F. stadium. According to our guide this translated as "Peace and Friendship Stadium", though I suspected this was actually a Greek joke and S.E.F. stood for "Shoot Every Foreigner".
| | |
| --- | --- |
| S.E.F. | Pictogram |
I wasn't too sure on the exact rules of "proper" volleyball, especially as one of the players wore a different colour to the others and was called a libido or libretto, or something. Having six players on a team meant longer rallies and people diving about every which way. After every point a couple of pint-sized Olympic volunteers would sprint onto the court and mop up any sweat from the ground.
| | |
| --- | --- |
| Je joue au volley | Where's the libido? |
Post-volleyball we headed to Piraeus, the port of Athens and gateway to the Mediterranean. From here you can catch ferries to the Greek islands, Italy, even North Africa. We went to the beach.
Not a fan of sunbathing, I have an extensive repertoire of games involving stones, to be played on the beach. Knock the stone off the stone, stone boules, stone skimming, longest throw, biggest splash, making a man out of stones...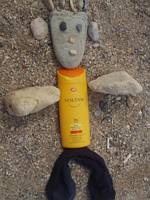 Neolithic Man
The evening's weird sport was handball. It's hard to describe. Imagine playing basketball, but you have to throw the ball into a hockey goal instead of a basket, and you can run into people and knock them over, and do this all at great speed, then add lots of drunk cheering Germans, and you've got the right impression.
| | |
| --- | --- |
| Handball. Weird sport. | Germans do the conga |
Each point would begin slowly, with the players lobbing the ball to each other, then there'd be a sudden super-fast attack, with dodges and dummies and fakes, culminating in a blisteringly fast throw into the top corner of the goal. Well, at least every attack seemed to end that way for the Germans, who were the world champions. Handball was quite bizarre and often quite violent, but with goals being scored every two minutes you couldn't look away.
| | |
| --- | --- |
| Egypt vs. Germany | Deutschland, Deutschland, über Alles! |
Day 4
Today we didn't have an early morning event so we could relax on deck and meet our passenger Bev for the first time. She was actually British although she had lived in America for the last three years teaching English Literature.
Her only real problem with the boat was one I could identify with: she was terrified of falling off the wobbly gangplank. After much encouragement and useful tips ("take big steps") and calming cigarettes, Bev practised marching up and down the gangplank repeatedly while I wrote my postcards.
| | |
| --- | --- |
| Cap'n Matt | Shade under the cover |
Bev was in Athens to watch her brother Paul ride in the team cycling pursuit, the GB team had won bronze in Sydney and were hoping to go one better. Despite being so close to Athens, it was hard to find out about how the Olympics were going. The only British medal we knew about so far was a silver in the synchronised diving, so it was looking like we'd be banking on Paul to up the British medal total.
Bev would be meeting up with the rest of her family in a few days time when the cycling events began, but in the meantime I headed off to OAKA with Andy to watch some tennis.
| | | |
| --- | --- | --- |
| Gruesome twosome | The man himself | In OAKA (by Andy) |
It was once claimed I have a passing similarity to Roger Federer and ever since I have supported him in tennis tournaments. Luckily this coincided with him becoming World No. 1 and winning two Wimbledon Championships: my support was clearly having a good influence.
Federer was first up on Court 1, but he must have forgotten to set his cuckoo clock that morning, as he looked out-of-sorts, crashing out in three sets.
| | | |
| --- | --- | --- |
| Court No. 1 | Federer (aka me) | Roddick vs. Haas |
I'd been to the Championships at Wimbledon earlier in the summer; the crowd here weren't as tennis mad, or as posh, but Centre Court was buzzing for the second big match of the day between Andy Roddick and Germany's Tommy Haas. The German had a big travelling support and was causing problems for the big-hitting Roddick.
Roddick saved two match points, then threw away about five of his own before clinching it 9-7 in the final set. The crowd rose as one to applaud.
Back in Lavrio our boat had two new passengers in the shape of British students Ben and Polly. I'm still impressed when plans hatched on the Internet translate into real life. But yes, these people I'd met in cyberspace were real and handed us large cheques to stay on our yacht. My thoughts were already turning to hiring a fleet of yachts for Beijing 2008.
Day 5
Oriental Studies topped today's timetable. Players from the Far East dominate both badminton and table tennis.
The Chinese supporters were out in force at the Goudi Olympic Hall for the badminton contests. They only appeared to have one, rather regimented chant, which to my ears sounded like "Go home, China!"
| | | |
| --- | --- | --- |
| Big screen badminton action | Wonky camera 1 | Wonky camera 2 |
Their opponents sang "Go home, Korea!", "Go home, Thailand!" or "Go home, Indonesia!" as appropriate. The key to success in badminton lay in being tall, lanky and Asian.
We headed into Plaka for lunch. I'd described the area in 2002 as being "one giant souvenir shop" and it was still ideal for purchasing postcards or Turkish Orthodox priest robes.
| | | |
| --- | --- | --- |
| Athens: Concrete jungle | Lunchtime | Reminds me of meals back at Downing |
When I first came out of the metro station at Monastikiri on that trip two years earlier, I remember that my first sight of the Acropolis took my breath away. It still does. From the summit of Filopappos Hill the view of the Parthenon was crystal clear and through my binoculars I could see the hordes of tourists clambering around and even the people by the entrance selling overpriced orange juice to parched tourists.
| | | |
| --- | --- | --- |
| Thousand acres of sky | Acropolis | Filopappous Hill |
We arrived at the Galatsi Olympic complex, a hall of colossal dimensions. We'd clearly come to the wrong place, as this was far too big a venue to be used for table tennis. But no, we were right, the hall contained four table-tennis tables dwarfed by the surrounding grandstands, which held thousands of Chinese, Indonesians, Koreans, Thais and a large number of Swedes in Viking helmets.
| | | |
| --- | --- | --- |
| Welcome to table tennis | Galatsi Olympic Hall | Pretentious ping-pong |
In the pantheon of Famous Swedes, Jan-Ove Waldner is lagging far behind Sven-Goran Eriksson, Alfred Nobel or Ulrika Johnsson. But to our band of mock-Viking warriors, he was a superstar. He looked rather incongruous, being rather too tall to fit at the table, but the Vikings had plenty to cheer about as he won through his match 4-3.
| | | |
| --- | --- | --- |
| Swedish support | Jan wins! | Celebration |
Day 6
Many sports have been mentioned as possible Olympic candidates: squash, snooker, rugby, even ballroom dancing. One however is repeatedly and cruelly ignored by the bigwigs at the IOC. I speak of course of the high-speed, nerve-wracking, wrist-wrecking sport of table football.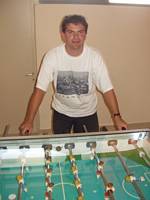 At the foosball table
In my years at Cambridge I'd become proficient enough to enter the British Open and had even won some prize money in a few tournaments. I was ranked 116th in Britain, and was hoping a switch in allegiance to India, not amongst the Premier League of table footballing nations, might help my Olympic qualification.
Before efforts at Olympic glory, I first had to beat Andy, which proved quite challenging. I blamed the rather odd table at the local Internet café. All the foosmen had Oriental features and painted lips and wore rather kitsch football kits. The match ended in a draw; I'll have him next time...
Today was our "day off", allowing us to explore the town of Lavrio "with its significant and turbulent thousand year old history, it stands arrogantly over Southern Attica attracting all kinds of visitors from Greece and the rest of the word alike".
| | | |
| --- | --- | --- |
| They have big cranes | They have big ferries | They have good beer |
Reading my free town map and guide, I was sorely tempted by the "metallurgical museum where you will be able to admire the wealth of mineral ore exhibits from the Lavriotic earth" but I opted for a walk down past the ferry port to the beach. Lavrio was, as my guide attested, proud of its industrial heritage and the skyline was dominated by two great brick chimneys belching out fumes, offset by a bank of whirring wind turbines below.
A lazy day was completed with a mass game of Scrabble with Ben and Polly, whose innate Britishness had extended to bringing a full-size Scrabble set along. So, as we pondered whether AI (three toed sloth), DI (plural of deus) and BO (interjection) were words, and watched the mating rituals of the dogs on the pier, another day passed.
| | | |
| --- | --- | --- |
| Day... | ... turns into evening... | ... turns into night |
Day 7
I have a crush on Athena. The Athens 2004 Olympic mascot has a definite allure, despite her misshapen head and Äs for breasts. She seemed damned sexy to me anyway: I suppose she is a goddess. Athena's fellow mascot is her brother Phevos, though going by the usual inbreeding antics of the Greek gods he was probably her uncle as well. I suppose that would explain the misshapen heads.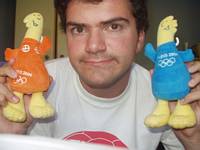 Athena and Phevos
There were huge piles of Athenas and Phevoses at the Olympic Superstore at OAKA, where you could also invest in Olympic boxer shorts, Olympic mugs, Olympic flip-flops and Olympic towels.
Which would no doubt be useful for competitors in the diving competition. I'd been really looking forward to this all week, and once we'd nabbed some seats near the 10m board, I was hooked.
| | | |
| --- | --- | --- |
| The diving boards | Preparing to dive | Handstand dive |
As well as marks out of 10 awarded by the judges, the competitors' marks were multiplied by a difficulty factor for the dive. The top competitors might try a difficulty 3.4 dive like a "backward 3½ somersaults 1½ turns pike" (I'm not making this up.) However you would only get a difficulty 0.3 for a "forwards reverse implicated mackerel bellyflop" (I am making this up.)
As well as admiring the gracefulness of the spins and turns through the air, much of the entertainment came from guessing the judges' marks before they appeared on the big screen. We used Andy's patented Splashometer test... a quiet, controlled small splash was probably a 7.5 or an 8.0, but when you thought someone had dropped a whale in the pool and the spray hit us in row 27, you were probably looking at a 1.0...
Evening saw us back at the Helliniko Complex for the final matches in the group stage of the hockey. You could just imagine the Greek Olympic planners reacting with glee when they discovered there was a giant empty airfield up for grabs.
"Quick, let's stick in all the random sports we don't know where to put... er... hockey centre (PLONK!), we'll have a big fencing hall here (KABOOM!), maybe a basketball diamond – and a softball pitch (SMASH! CRASH!). Hmm, lots of room left, how about a canoe/kayak centre (SPLOSH!). Better get a move on lads, opening ceremony's tomorrow..."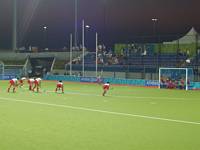 A hockey centre (PLONK!)
As I watched the hockey I realised we'd been here 10 days, though it barely felt like that. We'd seen many sports I'd never seen before, some of which I'd probably never see again. But for many people, the Olympics are all about the track and field events, and it was to the main stadium that our attentions would turn from tomorrow. From here, it was a race to the finish.