---
Day 22: Assisi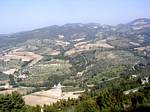 Another problem with writing a diary whilst on holiday is how easy it is to drop into the language of guidebooks. Towns are always "perched" on slopes, hills are "rolling", streets have a "quaint charm" and the views are "stunning".
In the morning then, I explored the town of Assisi, attractively perched above the Umbrian plains in an area of rolling hills. The narrow, steep streets had a quaint charm and the view from the castle at the top was... stunning.
There, I've done it.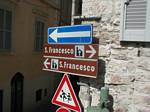 All roads lead...
All roads in Assisi lead to the Basilica San Francesco. From the outside, the cathedral is nothing special, a complete contrast to the interior. Every inch of wall space was covered by colourful frescos.


... to the Basilica
One of the advantages of religious services (cue boos from Richard and Andy) is how easy they are to follow in a foreign language - in this case, Latin. Going to Mass in the world's most famous cathedrals is definitely more entertaining!

Outside the basilica


Nice arty-farty photo


You encounter monks
more often than
common sense (Dostoevsky)
After exploring the cathedral I climbed up to the castle then back down to the main square for the first of many ice-creams.
I met up with Richard and Andy, Richard bought a €10 ice-cream (just imagine).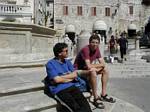 On good terms for once
In the evening we went to a pizzeria for our last chance at Italian dining - in my case proscioutto e melone, pizza alla schiava and vino bianco - it sounds so much nicer in Italian.
Day 23: Assisi > Perugia > Florence > Milan >
Another long walk with our seemingly heavier and heavier bags brought us to Assisi station again. I played an elaborate game of Pictionary with the woman in the ticket office to book our tickets for tonight's sleeper, then we were off on our way to Florence.

Florence


No, this is the wrong square


Queue queue queue

The way the train time panned out gave us five hours in Florence - five pretty hectic hours.

Right, dump the bags, strap the tent on. God that weighs a ton. Pizza. Pizza. To the main square. No, this is the wrong square. I remember it. Pizza. Pizza. This place is overrun with tourists. Here it is! Pizza funghi. Due. Grazie, grazie. Munch munch munch. I'm off to see the Uffizi. March march march. Hell that man has a big ice-cream. Uffizi! That's a big queue. A very big queue. Queue queue queue. Boring boring boring. Ah where are you from? Ah, jolly frustrating this queue. Rather. Stiff upper lip and all that, eh? Ha ha ha. Queue queue queue. Queue queue queue. Oh we're in. Another queue. Queue queue queue. Have some money. How kind. At last! Culture culture culture. Art art art. Birth of Venus. Botticelli. Canaletto. Michelangelo. Haven't I seen that before? Rush rush rush. Ooh very nice. Back outside. Big ice-cream. Not as big as that man's. River. ooh. Tower. Ooh. Cathedral. Ooh. Very busy. Too many tourists. I am a tourist. Sigh. Need more pizza. Grazie, grazie. E uno cappucino. Grazie, grazie. Not much time. Where's the station? Rush rush rush. Grab the bags. Rush rush rush. Half six, time to go...


Big ice-cream


Tower. Ooh.