---
Day 20: Athens > Patras >
"That was the worst train ride I have ever been on" declared Richard as we finally reached Patras. While the five hours in the oppressive heat and smoky atmosphere hadn't been a bundle of fun, the hyperbole didn't really seem justified. Fourth worst maybe.
A slight misreading of the timetable on my part had happy consequences, as, instead of having to stay overnight in uninspiring Patras, we could leave on the 8pm boat, direct to Ancona.
The ship, Superfast V, was plush and comfortable, and before long anchors were weighed and we steamed off into the Adriatic as the sun set.
...
It would have been a perfect scene, had not Richard and andrew got it into their heads that they really wanted to visit ... Guernsey, an idea of such stupidity that it rivals "Shall we try for a baby, Mrs Hitler?" Still I suppose we'll end up following their whims.
Day 21: > Ancona > Foligno > Assisi
Sleeping on deck proved more comfortable than it sounded and a breakfast of apple tart and Red Bull (memories of exams...) soon had me raring to go.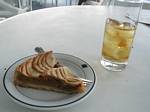 Stimulation for body and mind
Soon we were in Ancona which (despite the Rough Guide's bad write-up) had a definite charm beyond the clutter of the port.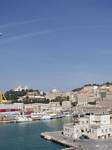 Ancona
There wasn't much time to savour it though as we were soon on the train to Foligno.
It was festival time in Foligno, which normally would have been quite exciting, but we only had 30 minutes to find a pizza and catch our train. The crowds packed the streets, making the former impossible, so we settled for the latter.
We arrived in Assisi at nightfall, the lights of the town guiding us in the right direction. It was still a long hard trudge to the youth hostel, run by a woman who was definitely from the 'old school' of hostelling - early curfew, early breakfast (PUT YOUR CUTLERY IN THE RIGHT BIN!!!), blankets on the beds. The hostel was spotlessly clean though, and we had a room of six to ourselves.
A quick dash into Assisi finally yielded our long-overdue pizza, albeit dry; and some likeable if a bit dim Americans (Does that say London on your T-shirt? No, Ljubljana.)