---
Day 18: Athens
We thought by getting up early we could be able to beat the tourists to the Acropolis. We were right: just not early enough.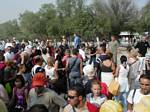 Not quite early enough
The tour parties were already piling in as we arrived and headed up through the Temple of Athena Nike. Despite the crush and the inevitable 'restoration' work (scaffolding everywhere) the huge scale and beauty of the Parthenon and the smaller Erechteon was striking.
The Museum had some fragments of the Elgin Marbles that Elgin hadn't nicked, plus lots of statues and columns.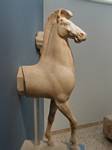 Horsing around
After a quick detour to the Theatre of Dionysus to strike some classic poses, I parted company with Andy, who went off to climb a hill in the midday sun.
I stayed in the shade of the National Gardens, home to a rather worrying sign:

Off next to the National Archeological Museum, home to myriads of ancient remains, then the historical theme to my day continued at the Greek Agora and the Roman Agora with the 8-sided 'Tower of the Winds'.
Athens was fun to wander in - lots of streets to walk around, always unsure if round the corner you'd find a flea-market, a designer fashion outlet or another Ancient Greek ruin.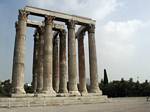 Another Ancient Greek ruin
Soon it was evening and I met up with Richard and andrew for a meal: I had the intriguingly named "Chef's Madness". One more day in Athens tomorrow before we move on.