---
Day 17: Litochoro > Athens
Another long travelling day - at least this time we had some food. The train was slow and hot, so I made another assault on my reading material (Devils by Dostoevsky if you recall). It's the sort of book I would never normally read, weighing in at over 700 pages. I've now ploughed through part 1 of 3.
The Greek countryside was also a welcome distraction: rolling hills, whitewashed cottages, plains reaching as far as the eye could see.
7 hours later we reached Athens and a short walk brought us to Hostel Aphrodite, an Australian ghetto in the Athenian suburbs. It was certainly better equipped than Camping Sylvia (though a hole was well equipped compared to Camping Sylvia). Hot showers, proper toilets, a private room, Internet access, a laundry service and even a bar.
While Richard enjoyed the last of those facilities, I ventured out into Athens with Andy. There was certainly no missing the craggy Acropolis, straight in front of you as you came out of the metro.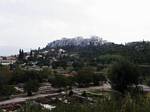 The Acropolis
We wandered round the Plaka area for a while (basically one big taverna and souvenir shop). I'd previously had a debate with Richard about whether the limits to achievement were real or self-imposed (we were probably drunk), so when I spotted an Olympic T-shirt with the slogan 'Everything can be achieved with practice' the chance was too good to miss.
We could have done with a bit more practice at finding the way: we got lost on the way back and went for an impromptu half-hour ramble around the back streets of Athens.
Day 18: Athens
We thought by getting up early we could be able to beat the tourists to the Acropolis. We were right: just not early enough.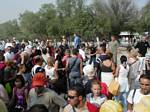 Not quite early enough
The tour parties were already piling in as we arrived and headed up through the Temple of Athena Nike. Despite the crush and the inevitable 'restoration' work (scaffolding everywhere) the huge scale and beauty of the Parthenon and the smaller Erechteon was striking.
The Museum had some fragments of the Elgin Marbles that Elgin hadn't nicked, plus lots of statues and columns.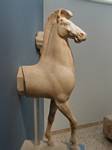 Horsing around
After a quick detour to the Theatre of Dionysus to strike some classic poses, I parted company with Andy, who went off to climb a hill in the midday sun.
I stayed in the shade of the National Gardens, home to a rather worrying sign:

Off next to the National Archeological Museum, home to myriads of ancient remains, then the historical theme to my day continued at the Greek Agora and the Roman Agora with the 8-sided 'Tower of the Winds'.
Athens was fun to wander in - lots of streets to walk around, always unsure if round the corner you'd find a flea-market, a designer fashion outlet or another Ancient Greek ruin.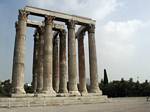 Another Ancient Greek ruin
Soon it was evening and I met up with Richard and andrew for a meal: I had the intriguingly named "Chef's Madness". One more day in Athens tomorrow before we move on.
Day 19: Athens
Over the span of human history, Man has faced many challenges - protecting himself and his family, creating fire, building shelter, building communities and great civilisations, coping with natural and man-made disasters.
Nowadays we have a pretty comfortable existence and are forced to dream up our own silly challenges. Inspired by being in Athens, home of the 1896 and 2004 Olympics, I resolved to run a lap of every Olympic Stadium in the world.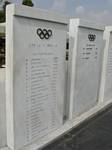 The challenge lying ahead
The 1896 stadium was an impressive piece of architecture - a massive horseshoe set into a hill, still in perfect condition 106 years after the last race had been run there.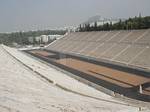 The Olympic Stadium
I approached a man who had been busy taking photographs of the stadium and asked him if he could time me for a lap. He agreed - on the condition he could take some photos of me running round the track.
Somewhere a photo album will now be graced with a picture of me sprinting away into the distance, then returning absolutely knackered 90 seconds later. It was 11 in the morning and the sun was beating down oppressively, so after thanking my official photographer, I collapsed in the shade to recover.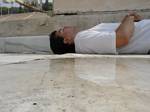 Recovery in progress
With a spring in my step and a banana milkshake in my stomach, I set off on a long metro ride to the 2004 stadium. Inevitably, with 2 years still to go, this was still a work in progress. The whole site was deserted and railings stopped you getting too close to the stadium.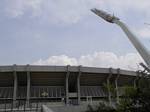 The 2004 stadium
A rather frustrating trip, but I would return in two years.
While I certainly am in the category of "mad dogs and Englishmen", I'm not a fan of the midday sun so I cooled off for a while in an Internet cafe, and fiddled about in my favourite real world cafe, Cafe Nero.
Later I climbed the hill of Filopappou for some amazing panoramic views of the city, Acropolis and port of Piraeus.


What a view!
I finished my 'Olympic day' with a wander round Plaka to buy another Olympic T-shirt (I can't help it!) As dusk fell, I made my way to Lycabetus Hill. A funicular whizzed me to the top, where I could see the lights across the whole city.
It was the end of the line. 1500 miles from Ashford to Athens in 19 days. Time to head home.
It started to pour with rain.