---
Day 14: > Skopje > Thessaloniki > Litochoro
That phone call in Ljubljana proved its worth: we had a private cabin with decent beds and uninterrupted sleep, with the exception of the Macedonian border crossings. To my amusement, the border police forgot to take my Macedonian exit visa, so I am still officially in Macedonia.
After we had reclaimed our passports from the over-zealous Greek police at the border station, we were back in the EU.
Richard was in a foul mood all morning (who knows why?) and practically exploded when Andy refused to close the compartment door.
Personal problems aside, we made it to Thessaloniki in one piece and went on the search of some food. Thankfully my Greek alphabet is better than my Cyrillic so there were far fewer problems here.
Soon we were back on the train again - this time a very hot and crowded local stopper. "I'd be embarrassed to live in Greece" yelled one American. It wasn't the most comfortable of rides, especially as the windows refused to stay open. The best place to travel was in the corridor with the window jammed open and the wind streaming into your face.
We got off at Litochoro, one of the places the man in the Tourist Information Centre in Thessaloniki had promised would have a beach. The station was in the middle of nowhere, but a 10 minute walk brought us to Camping Sylvia, run by a friendly but rather confusing man. He reminded me rather of one of the characters in The Vicar of Dibley. "Is it safe to drink the water from the taps?" "No no no no no no no no no no no no no yes."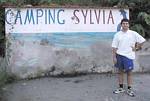 Camping Sylvia
The campsite proved a bit basic in facilities (the squat-down toilets and cold showers weren't much fun) but more than made up for it in location ... overlooking a deserted beach with crystal clear water, perfect for swimming. Which I did.
Later we had a delicious dinner in the restaurant overlooking the sea. Life is good.
Day 15: Litochoro
Beach, sun etc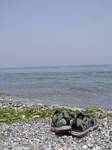 Day 16: Litochoro
After yesterday's extremely lazy day, I had an early start and set out at 9am to the train station to catch a train to Katerini, the nearest 'big town' Yes, it's so dead here you have to catch a train to go shopping. I needn't have bothered - I waited for two solid hours before a train finally arrived.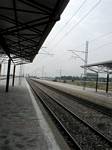 Waiting for the train
OK, big town is something of an overstatement for Katerini, but it had a small supermarket where I could buy us some food including my first breakfast for several days. Attempts to phone the Youth Hostel in Athens were less successful - I resorted to phoning my sister back home and getting her to look up the new number for me on the Internet.
The delights of Katerini exhausted, I headed back to Litochoro on the train. The train staff aren't too keen on stopping there since it's a request stop ... on this occasion the driver overshot by about 100 metres and we all had to walk back up the track.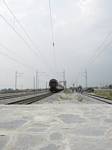 Ever felt like an asylum-seeker?
The waitress in the restaurant where we had dinner yesterday (mmm... kebab) had apologised that "Summer had ended" and she seemed to be right. Yesterday's unbroken sun was replaced by a rather dull day of weather.
The drizzle forced us under cover and rather more games of Hearts and Ludo than usual in the evening (joined by a giant grasshopper), but it dried up later for a spot of sausage-frying and rock-juggling.