Baltic 2003: 'Omnibuss, Omnibuss'
Part 1 of 4
---
---
Please note – All pictures have been scaled down for quick downloading so contact me if you'd like a larger copy of a photograph.
Prologue
When Russian people talk, it comes out all funny лайк зыс.
The Finns are very clean and have lots of mobile phones.
Estonia, Latvia and Lithuania are all the same really.
The high point of Estonian history was winning the Eurovision Song Contest.
It wasn't only strange preconceptions that I was taking on holiday. The main addition to my baggage was James Bell, although I was hoping I wouldn't have to carry him. Admittedly James probably weighed less than my rucksack.
---
I broke out of my daydreaming as I reached Harlow. It had been a struggle even to get to this stage - the passports and visas only arrived from the Russian Consulate the day before we were due to leave. Still, the diplomats had eventually come out of their vodka-induced haze for long enough to allow us entry, and we would soon be on our way to Sweden, Finland, Estonia, Russia, Latvia and Lithuania.
Day 1 (Harlow > Stockholm >)
We had agreed we would meet Holly, Sarah and Louise at 3pm at Stockholm bus terminal - failing that at 4pm at the ferry terminal - failing that at 5pm on the top deck of the ship - failing that at 6pm at the information desk.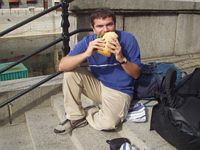 Munching lunch in Stockholm
Naturally we bumped into them within five minutes of arriving in Stockholm, making the planning seem rather unnecessary. We only had an hour or so to spend in Stockholm once we'd got the bus into town from the distant Skavsta airport. Stockholm was much as I remembered it - clean and colourful. The streets were festooned with hundreds of posters urging the Swedes to vote "JA TILL EURO"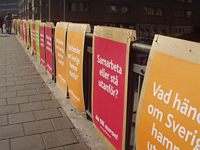 Yes to the Euro!
By the time we returned on September 23rd they would have had their referendum and the news reports seemed to indicate that they were almost certain to say "NEJ".
---
The M/S Silja Serenade is a huge ship, from the observation platform on deck 13, down to the lowest, darkest cabins below the waterline. Naturally, being cheapskates penniless students, we were in one of the lowest, darkest cabins.
| | |
| --- | --- |
| Cavernous interior | Our cabin on deck -17 |
However the cavernous interior of the public decks was impressive, and the facilities were second to none: there was a spa, restaurants, shops, hairdressers, a casino and nightclub.
| | |
| --- | --- |
| Famous five: Louise, Holly, me, Sarah, James | No admittance! |
All five of us decided to go for a splurge on the all-you-can-eat smörgåsbord. Being cheapskates penniless students, we naturally interpreted all-you-can-eat as a challenge, stuffing ourselves with as much as our stomachs could take, and stealing enough for breakfast tomorrow. The smorgasbord contained a cornucopia of all things fishy, Swedish and Finnish specialities (including meatballs) and huge amounts of ice-cream.
At midnight the ship was weaving through the maze of islands that litter the southern Baltic Sea, steaming quietly through the cool night air. The peace was shattered by several loud and enthusiastic Elvis impersonators - yes, it was the Hot Hot Hot Dance Company cabaret. What they lacked in quality, they tried to make up for in lack of clothes.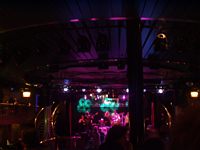 The warm-up act. As if they needed one.
Day 2 (> Helsinki)
The giant smörgåsbord sandwiches had survived the night well, James somewhat less so (a sleepless night for him). The dungeon cabin naturally had no porthole, but climbing back to deck level we found that we had indeed reached Helsinki
Helsinki was another watery, pleasant, light, clean, expensive Scandinavian city. We weren't staying long, so we went on a quick sightseeing walk, past the brilliant white Senate Square and the giant domed Uspensky Cathedral. However I was distracted by the reference on the map to the Olympiastadion.
| | | |
| --- | --- | --- |
| Great balls of... glass | Senate Square | This shop was expensive |
One of my long-term ambitions is to run a lap of every Olympic Stadium in the world - and yet I hadn't even remembered that Helsinki had hosted the Olympics in 1952. Luckily, James was happy to accompany me on the hour-long detour to the Stadium, where workmen were setting up for the annual Finland-Sweden athletics match. No-one seemed to find it too odd as I jogged around the track in 1 minute 40 seconds. Only another 20-odd stadiums to go.
| | |
| --- | --- |
| Another one bites the dust | Cross it off my list |
Temppeliaukio Church was listed as one of the top 10 sights in Helsinki, so I walked there before dinner - and I was glad I did. The whole building had been carved out of granite, giving it a natural, rough-hewn appearance. You half-expected there to be a stream running down one of the craggy walls.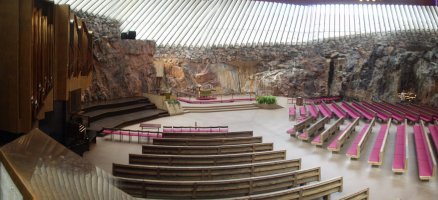 Here be granite
Zetor billed itself as "the ironic tractor restaurant". It had ironic menus and ironic wooden Friesian elks. Despite this, the food was rather good.
| | |
| --- | --- |
| Ironic Friesian elk! | Ironic menu |
After dinner we went for a walk round the harbour, before James helped me get to sleep by explaining the Acol conventions for bidding in bridge.
| | |
| --- | --- |
| Helsinki by night | Aaaaaaaaaahhhhh |
Day 3 (Helsinki > Tallinn)
It was Friday 5th September. Within a month, the Baltic Sea would be freezing over and the hydrofoils and catamarans would no longer be able to ply their trade across the water to the Estonian capital Tallinn. Today though, the boat was packed with Finns going for a booze cruise, or a Friday night out.
Our boat pulled into the harbour at about 1230, and after a lengthy passport check with the deadpan border guards, we stepped out to get our first real taste of the Baltic countries.
It's easier to describe what Tallinn is not like than what is is like. It's certainly not Scandinavian - but it doesn't really feel Eastern European either. The showpiece square, Raekoja plats, feels Germanic, and is surrounded by cafés, but the prices certainly aren't Western European. And while there are some remnants of the Soviet regime, you certainly wouldn't describe it as Russian.
| | |
| --- | --- |
| Art in the Old Town | Bit like Bratislava methinks |
So Tallinn is... Estonian, I suppose. Like Sweden, they were soon to have a referendum, in this case on whether to join the EU. The 'JAH' posters seemed to have a monopoly.
We had an Estonian buffet at Eesti Maja - a variety of soups, stews, schnitzels and Saku (the local beer). The shops also did a good line in cheap cream-filled cakes.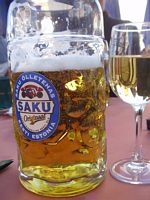 Saku
Tallinn is the sort of town that makes you want to wander, with its cobbled streets, colourful wooden buildings and mercifully flat terrain. And we covered a fair distance in the afternoon and evening, getting lost frequently but always mysteriously ending up back at the junction at the flower market by Viru gate opposite McDonalds.
Our last stop of the day was the Strip Club.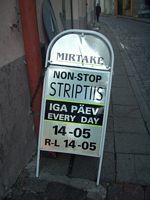 Better than the Hot Hot Hot Dance Company any day
Well, almost. The Vana Tom hostel shares its premises with a less salubrious neighbour. However everyone in our dorm was suitably clad.
Day 4 (Tallinn)
Tallinn neatly divides into two parts - the Upper Town on the hill of Toompea, looking out over the higgledy-piggledy maze of streets of the Lower Town. After our inclusive breakfast, which also did for lunch, we set off up towards Toompea, dominated by the huge domed Russian Orthodox cathedral.
The Russians had clearly plonked this directly in front of the stylish pink Parliament building, particularly to annoy the Estonians.
| | | |
| --- | --- | --- |
| the Cathedral | the Parliament | Pretty in pink |
I was beginning to get an idea of the architecture of Russian Orthodox cathedrals, after seeing this one and the Uspensky in Helsinki. They are small in floor area, but very, very tall with onion domes on top. The decorations, particularly the altar screens is incredibly ornate with gold seemingly covering every surface.
From Toompea there were great views across the city - the ferry terminal in the north, the spires and roofs of the Lower Town ahead, the skyscraping hotels of the New Town in the east, and the Soviet-era tower blocks smeared over the horizon.
| | | |
| --- | --- | --- |
| Hello Mum! | the New Town | the Old Town |
Meanwhile, in the park below us an Alsatian was attempting to bite off the arm of a policeman. Luckily, this turned out to be a police dog training exercise and the man and his fake limb were soon reunited.
| | |
| --- | --- |
| Fierce dog | Nice dog |
Additional cream cakes from Ye Olde Cake Shoppe (well it would be called that in Britain) kept us sustained as we wandered around the Olde Town.
| | | |
| --- | --- | --- |
| Bit like Assisi methinks | Bit like St George methinks | Bit like some other photos methinks |
At 1700 we headed to Nimeta Baar to watch the football Euro 2004 qualifiers on the big screen. The oddity of watching Scotland play the Faroe Islands with Russian commentary in a bar in Estonia was not lost on us, but the food and beer was cheap, like most things in Estonia. After the first half we switched to Bulgaria v Estonia, but the biggest crowd was for Ireland v Russia, who seemed to have about equal numbers of fans in the pub.
Our hostel roommates seemed a friendly bunch, an improvement on Helsinki. Someone will no doubt one day write a Sunday newspaper article categorising hostellers into various stereotypes. In Finland we'd had the pleasure of the company of "#5: Really Boring Guy". Really Boring Guy has a large fund of boring anecdotes and useless jokes about any given location on Earth. "Oh, you're from the USA. I used to know a dentist whose uncle was American".
Day 5 (Tallinn)
We decided to take the coast road east towards the port of Pirita. This was apparently where the Tallinnites go for their Sunday promenades, taking in the sea air. There was a misty haze sweeping in from the sea, and the weather was sunny but cool.
I feel something dramatic should happen here.
Dramatic things don't really happen in Pirita. Yachts come and go. The tide rises and falls. The occasional tourist buys an ice-cream. We walked on.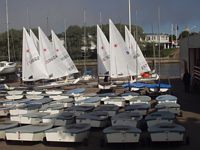 Pirita
Dramatic things do happen at the Estonian Song Bowl. In 1990, half a million people crammed into the 150,000 capacity amphitheatre and sang under the once-banned Estonian flag. On 20 August 1991, Estonia claimed independence from the crumbling USSR. They called it the Singing Revolution.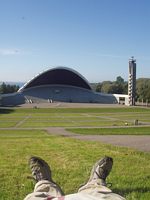 The Song Bowl
All was quiet as we walked into the vast arena - a colossal arched roof across the stage facing a long wide grass slope. There was a group of boys there, about 12 years old. I reasoned that they would have been born in 1991 or so. I can confirm that the children of the revolution are alive and well and riding BMXs.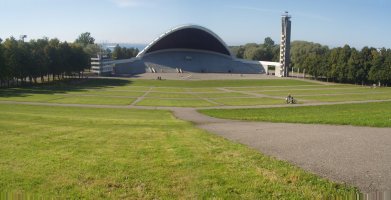 Where is everybody?
If you want to see the Estonians' version of Germany, head to the Tallinn Beer Hall restaurant. Big litre tankards of beer and big platefuls of steak and chicken revived our tired legs. Tomorrow would be our last day in Tallinn before setting off for Russia. A trip to the cybercafé brought news from home. It all seemed strangely distant already, a parallel universe continued to operate without my presence. England were even winning at cricket. Something was definitely up.
Day 6 (Tallinn)
Waiting for the train
Lie in the sun learning bridge
Haiku in Tallinn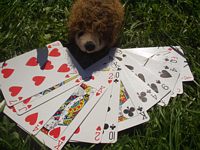 Theodore bids one heart
There was a young man in Tallinn
Who drank like a fish with a Finn
But vodka's not meant
To be 80 percent
And it sent their heads into a spin!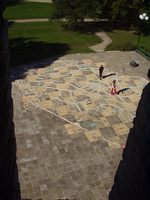 Playing in the sun
---
At 9pm I was in the hostel composing bad comic poetry
At 12pm I was back in the hostel. The intervening three hours I have no desire to repeat.
We were sitting in the train station waiting for the train to St Petersburg. The first signal that things were not going to plan was when an old woman, who spoke no English, approached us and started jabbering away in, we assumed, Estonian. She ushered us through a metal gate which she promptly locked, then led us down to a grubby office in the basement.
Maybe this was not such a good idea. No, we want to go to St Petersburg? Why not? We can't understand. Sprechen Sie Deutsch? Parlez vous Français? We want to go back upstairs to catch our train. We want to leave! She had no intention of us leaving and kept pointing at the blankets on the floor. The game of charades got more frantic, and we tried drawing pictures. We want to go to St Petersburg, tonight! More scribbling. She seemed to get the idea. The station is dangerous? We cannot go upstairs? There are pickpockets?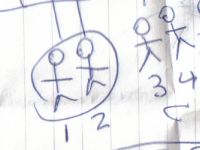 A desperate game of Pictionary (click to enlarge)
Finally she managed to convey the idea that we must wait here until the train arrived shortly before midnight. We resigned to stay and things got a bit more friendly - we gave her a sweet and she made us some coffee.
The time of the train was approaching though. We must go to the train? Now! No? No, we don't want to stay. We must sleep here?! (No sodding way) We decided we'd have to ignore her protests and march back upstairs. Thankfully a security guard let us out and we found someone who could translate for us. The janitor (at least that's who we assume she was) said that the train was delayed until 0659 the next day.
Somewhat relieved we escaped back into the outside world. We'd go back to the hostel for the night. The prospect of spending it in a deserted train station with a madwoman was less than appealing. Tomorrow morning we could finally be on our way to St Petersburg.