---
Day 1: Crawley > Ashford > Brussels >
As the 09:27 Eurostar from Ashford International plunged into the Channel tunnel, I pondered the adventure that lay ahead. (Actually that's not true. I missed the moment we actually entered the tunnel since I was too busy playing Chinese Poker and eating boiled sweets. Pondering wasn't on the cards.)

On arrival at Brussels after an impressively short trip we spent a good quarter hour struggling with the luggage lockers.

DEPOSIT IMPOSSIBLE!
thundered one.

REMOVE LUGGAGE and USE OTHER LOCKER!
demanded another.

Having finally satisfied the demands of the lockers we set off down the pleasingly named Rue Stalingrad towards the Grande Place, stopping off en route to stun the waitress in a sandwicherie with my command of French (Deux TEXANS, s'il vous plaît).

Brussels seemed a lively, if a little unexciting, city. We wandered the streets for a while to kill some time, checking out the Euro shops, having a drink in a local bar and then a pleasant and cheap meal in a restaurant.

It was all worryingly civilised. Was this the same threesome who had last year spent the night on a bench in the Arctic Circle?

Our hours in Brussels up, we headed back to the station for the night train to Bern.

Our €13 supplement had bought us berths in a couchette and hence the chance to sleep flat out. Our compartment was shared with two Americans, names unknown (called Billy-Bob and Buzz in my imagination).

The five of us, having exhausted the mutual conversational topics of British/American accents, turned in for the night. I was on the excessively high top bunk and was provided with safety straps to stop me going 'bump' in the night.


Richard in the Eurostar terminal


Brussels Cathedral


the Big Square


Worryingly civilised
Day 2: > Bern > Interlaken > Lauterbrunnen
It had taken several hours to deduce that there was in fact no truly comfortable position on my bunk. I managed about four hours sleep after that. Luckily neither Billy-Bob nor Buzz seemed to be snorers.
The 'highlight' of the night's entertainment occurred some time in the small hours, when a grey-haired elderly man came into our compartment. He looked bemused for a while before finally deciding this was not his bedroom and beating a hasty retreat.
By the time the steward returned with our passports at 6.30am there was only half an hour left and my bed suddenly seemed a lot more comfortable.
Enough of the night, on to the day. A shop trip from Bern brought us to Interlaken which despite its impressive mountain surroundings had precious little else to recommend it. An attempt to find the 'laken' ended in failure and soaked clothes (conscientious Swiss drivers).
Another train took us to geographer's paradise Lauterbrunnen, everyone's favourite U-shaped valley.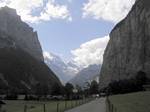 Everyone's favourite
The weather hadn't been great all day and the valley was initially shrouded in cloud. As the clouds cleared the dramatic cliffs on either side seemed to loom ever larger.
I had, I feared, been rather 'over-sold' Lauterbrunnen by Richard and andrew... it didn't take your breath away [Andy: Boo] but it is certainly a world-class sight.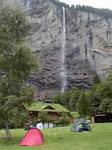 The tent feels proud of its surroundings
After a much needed shower (that's a person shower, not a rain shower) we went to visit the Trümmelbach falls, a series of scarily powerful cascades with spray being tossed up in your face (and at your camera).
Dinner was the first attempt at camp cooking and consisted of bolognese and crisps ... one up on semolina anyway.
Finally we smeared and sought ropes and marriages till nightfall.
Day 3: Lauterbrunnen
After two nights short of sleep I snoozed late into the morning. Soon though I headed off with Andy towards the distant snowy peaks of the Jungfrau, Eiger and the Mönch.
No doubt a guidebook would describe our route as
Gentle stroll, suitable for casual walkers, children and people with one leg. Difficulty: *
It was a hot day however, and the route was long and uphill. The scenery was ample compensation with numerous waterfalls, towering rockfaces and clichéed Alpine cows tinkling away.
We finally reached Trachsellauenen, 1210 metres above sea level.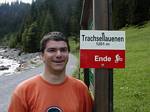 The end of the trail
The journey back was much like the journey there, only backwards.
As usual when I'm hot and tired, I became intrigued by the most trivial things we passed, for example a sign for Daniel's scooter meeting place. Who was Daniel? Why did he have so many scooters? Why did they all have such a desire to meet?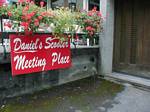 Who was Daniel?
Back to the tent to listen to a crackly North African version of the BBC World Service before a slap-up meal of rösti at the camp restaurant.
Day 4: Lauterbrunnen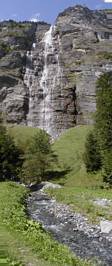 One of the problems of writing your diary at the end of the day is that the most tortuous events never seem quite as bad in hindsight.

The day started well enough. We played table-tennis (the campsite has a strange circular table), joined by French table-tennis maestro Patrick.

andrew and I then set off to Mürren up one wall of the valley. "The steep bit is at the start" Andy had claimed. No, the steep bit was all the way up. The path climbed and climbed and just when you thought it might flatten out, climbed some more. Utilising muscles I hadn't used in weeks, I dragged myself to the top, Andy gambolling up ahead like a mountain goat.

To my utter amazement we made it to Mürren 10 minutes quicker than the recommended two and a half hours. Even my hypothetical guidebook might have admitted that 'people with one leg may need assistance'.


On top of the world!


The view from the top

Mürren was a happy enough village. We had a late lunch and I went to look at a real mountain goat before the rather quicker descent.


Stop acting the goat, Andy

There was time for another game of table-tennis with commentary provided by Patrick. "YOU LOSE!!! THE BIG BOSS LOSE! WOAH! THE BREAK ZE BALL!" Well he certainly had a good vocabulary for a seven-year-old. After dinner we watched CNN (very frustrating) and played yet more pinochle. Tomorrow the bright lights of Milan beckon...


YOU LOSE!!!
This page is part of mattmayer.com, run by Matt Mayer
Email me on matt at matthewmayer dot co dot uk or see my contact page
Latest updates: